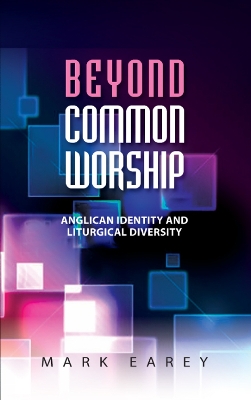 It's Summer Sale time! Amongst the titles on offer is Beyond Common Worship: Anglican Identity and Liturgical Diversity, by Mark Earey, Director of Anglican Formation and Tutor in Liturgy and Worship at Queen's Foundation.
The introduction of Common Worship services in the Church of England has gone remarkably smoothly, considering the immensity of the task. But despite its overall success, the sheer variety of material, coupled with the complex rules about what is and is not allowed, have left some parishes, clergy and Readers wondering if this is really the best way to produce good worship.
A question such as, 'How do we use Common Worship for a Messy Church service of Holy Communion?' focuses the issue – but it is a question being asked in different ways in lots of different places.
In the book, Mark Earey turns to the future, asking whether the framework of canon law, notes and rubrics within which Common Worship operates is any longer fit for purpose. In a mixed economy Church in which fresh expressions of church, alt.worship and new monasticism all sit alongside traditional parish churches, he asks whether it is time for the current rules-based approach to Church of England liturgy to make way for an approach based on trust and accountability.
Such an approach would allow for more local flexibility and creativity, but raises big questions about how such worship can be truly indigenous yet authentically Anglican.
There's been high praise for the book:
Yes! Yes! Reading Beyond Common Worship is like hearing an advocate who understands both sides of the debate pleading your case with clarity, dignity, passion and informed wisdom. For those of us who want to be Anglicans of integrity, whether we're Messy or not, Mark argues convincingly for the need for trust between the so-called centre and those on the pioneering edges so that we can all try to make our worship the best it can be in our changing contexts. — Lucy Moore
This is a powerful argument for the Church of England to shift from control to trust in how it regulates its worship. Mark Earey provides a detailed and honest critique of how the Church of England currently attempts – and fails – to maintain its identity through worship. He describes how the present regulated approach should be replaced by one based on relationships. Some will find his proposals too radical while others, I suspect, will say that they are not quite radical enough. His book is a very important contribution to the debate. — Michael Moynagh
This is exactly what the Anglican church needs – a way forward for worship that respects and celebrates what's core yet breaks open what's possible. I found myself saying 'yes!' time and again as I read it. I love the notion of a shift to a centred set approach based on trust rather than control. It would be wonderful to lose the bogeyman of the liturgical thought police once and for all! There is an extraordinary amount of creativity and diversity in the mixed economy of the Church of England as she engages in mission. This book paves the way for that to be affirmed and encouraged rather than tolerated or frowned upon whilst deepening Anglican identity in the process. I hope the Church has the courage to heed a book that knows what time it is. — Jonny Baker
You can hear a recording of Mark Earey talking about his book here.
Throughout the Summer Sale, Beyond Common Worship is available at a special price of only £10.00, while stocks last.
Browse a full list of titles available as part of the sale by clicking here.