An extract from Melodies of a New Monasticism
, by Craig Gardner
---
One musical practice, in particular that of polyphony (literally sounding many notes at the same time), provides theology with a rich metaphor for exploring the nature of Christian community. For most of the first eight hundred years of Christian worship the music employed was monophonic, whether it took:
the form of a cantillated prayer of extreme simplicity or of an ornate Gradual for a solemn occasion. . . . A single line of melody, untainted by any accompaniment, was the most perfect and satisfying symbol for the unity of Christian believers. (Wilson-Dickson, Brief History of Christian Music)
However, the advent of notation led to the development of polyphony: the simultaneous sounding of many interweaving melodies. In polyphonic music, more than one "melody" happens at any given time, overlapping and interweaving with one another over long eriods of time.
The Thomas Tallis motet "Spem in Alium" has forty different voices arranged in eight five-part choirs, all interweaving in counterpoint, exchanges of block harmony and massed outbursts. As Begbie notes,
Despite the sonic profusion, it never sounds "jammed" or crowded. There is a multiplicity without dissipation, togetherness without mutual overwhelming, each voice being enabled to become more fully itself. "As though being ourselves we're more capacious." (Begbie, "Through Music: Sound Mix," in Beholding the Glory, 152)
Indeed not only might there be a variety of interweaving vocal melodies but in orchestral music different instrumentation might be assigned to particular melodies, calling forth different timbres that are attached to respective melodies. In the latter case, each is distinct, not only in their melody, but also in their particular sound. But these remain undivided in their character and purpose with neither denying the other their right of differential existence. So, a melody introduced by a solo horn does not prevent a countermelody of strings beneath it (the strings may themselves be polyphonic in nature, comprising violins, violas, cellos, and double basses), nor is anything "lost" when the solo theme is developed by three  further horns playing in harmony. The difference-in-unity extends when, perhaps, the strings share their multifaceted countermelody with a further polyphony of woodwind (oboes, clarinets, flutes, bassoons, etc.). It is entirely
usual for such a symphonic piece to be additionally punctuated by percussion (triangle, cymbal, xylophone, side drum, and timpani) and be joined by the remaining brass (trumpets, trombones, and tubas). Indeed it can work with each of three instruments working in different keys. This is polyphony.
It can theoretically be either "harmonious" (i.e., attaining certain culturally conditioned aesthetic standards) or "dissonant" (displaying an apparent lack of agreement or tension between the notes). As Cunningham notes, the chief attribute of polyphony is, "Simultaneous, non-excluding difference: that is, more than one note is played at a time, and none of these notes is so dominant that it renders another mute." (Cunningham, These Three Are One). Hence, polyphonic music permits and encourages individual difference, yet unites them in what might be deemed a community of melodies. Drawing on this metaphor provides a valuable insight for a theology of community and enables an examination of diverse melodies of belonging.
In early polyphonic music there was often a cantus firmus (literally the firm song), which was usually a preexisting melody such as a chorale tune around which the other countermelodies were then arranged. Kemp notes how, musically,
the contrapuntal voice in a cantus firmus composition owes its existence to the Tenor upon which it is erected. . . . It is distinct from the Tenor. . . . If heard without the Tenor it would seem self-sufficient in motion, ambit and material; but its source of generation and control would remain the cantus firmus; it cannot operate beyond the ultimate "barrier" of the Tenor's dictates. (Kemp, "Polyphonous Christian Community")
The cantus firmus then lent its form to derivative melodies that fragmented, mirrored, echoed, and retextured the original melody in other voices. These countermelodies and harmonies could weave their way together with or even against one another, but as long as each remained in relation to the cantus firmus, the music could continue.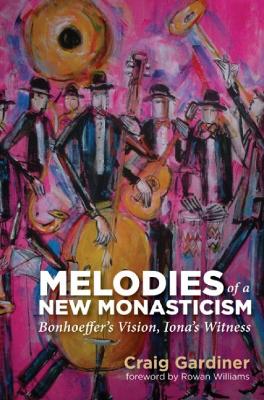 Melodies of a New Monasticism employs these metaphors of cantus firmus and polyphony to investigate the nature of Christian community: if Christ is conceived as the cantus firmus of all Christian living, then his "solid song" will be fragmented, mirrored, echoed, and retextured within a variety of people whose own diverse and individual melodies only find their unity, indeed their community, in Christ.
---
Craig Gardiner is Tutor of Christian Doctrine at the South Wales Baptist College. Melodies of a New Monasticism is published by SCM Press next month.