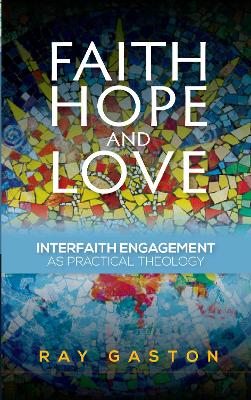 How do Christian interfaith practitioners live out their discipleship in a multi-faith world? And what, theologically, is being expressed in their activity?
In Faith, Hope and Love Ray Gaston draws on contemporary models of research in practical theology, such as auto ethnography, qualitative interviewing and analysis of spiritual journaling, to explore grassroots Christian engagement with other faiths and its impact upon Christian self-understanding.
Ray Gaston is Team Vicar of St Chad & St Marks in the Parish of Central Wolverhampton and Inter Faith Enabler for the Wolverhampton Episcopal Area and Advisor on Inter Faith Relations to the Bishops of Wolverhampton and Lichfield. 
Elaine Graham, Grosvenor Research Professor of Practical Theology, has contributed a foreword to the book – here it is in full.
---
We live in a world that is both fascinated and troubled by religion. Twentieth-century predictions regarding the inevitable demise of religion have had to be revised in the face of the global resurgence of faith as a powerful political force. Secularisation looks increasingly like an exception to the rule, contingent upon the historical trajectory of Western liberal democracy. Instead, globally speaking, as Peter Berger famously put it, the world remains as 'furiously religious' as ever. But for those living in the West – and particularly in that north-west corner of Western Europe that is the United Kingdom – the ramifications of what comes after Christendom are taking a while to settle into perspective.
This new dispensation, which many are calling 'postsecular', is one in which religion is increasingly prominent in public life, but where many major public institutions struggle to make sense of its ramifications. Local and central government look increasingly to faith communities themselves for creative and locally-based initiatives, from everything from social care to urban regeneration, but generations of secularisation have eroded society's reserves of religious literacy, meaning we are ill-equipped to negotiate the challenges and opportunities of an increasingly religiously diverse and pluralistic culture. As this book indicates, the legacy of multiculturalism is increasingly contested; and yet politically there is little in the way of a constructive alternative.
Furthermore, the peculiar nature of postsecular society means that this new visibility of religion is not universally welcomed. One legacy of the Western Enlightenment, namely the resistance to religious voices in public places, still endures, meaning that faith groups are simultaneously wooed for their rich social capital and under growing pressure to justify their very presence in the public realm.
What, then, are we to do? Ray Gaston is right when he says that part of the challenge to people of faith is about finding renewed resources for a new kind of public, practical theology: one that is capable both of engaging with the realities of religious and cultural pluralism and of ensuring that Christians themselves are nurtured, theologically and spiritually, to exercise an effective discipleship. Often in contexts of interfaith dialogue, Christians are put to shame by their neighbours of other faiths who demonstrate a much greater level of religious literacy and intercultural curiosity. Ray Gaston's book is in part a record of his attempt to redress that imbalance of knowledge and understanding, as he undertakes his own personal journey into the life-world of his Muslim neighbours and accompanies them through their religious devotions and obligations.
One of the strengths of this book, however, is its insistence that such practices of interfaith engagement and accompaniment also need to be informed by serious theological thinking. In order to stand alongside our Muslim neighbours, Christians need to turn to, and befriend, the roots of their own tradition, since to seek empathy with the other is to ask fundamental questions of one's own heritage. In this respect, Ray Gaston weaves together the threads of action and reflection – embodied in parish ministry and theological education — in a highly accomplished and sustained piece of practical theological method.
This is a journey that begins with an attempt to come alongside his neighbours, and which blossoms into sustained solidarity and accompaniment with the other, informed by a deep commitment to the preferential option for the marginalised. The process continues with serious immersion in the sacred texts and practices of one's own tradition and those of others, sparking a theological reflection that risks difficult questions but which results in renewed practices of citizenship informed by the Biblical convictions of faith, hope and love.
As this book argues, these virtues of faith, hope and love all have their place within the new postsecular economy. Faith means having a reflexive, self-aware understanding of what it means to be a person of faith in a world in which that is deeply counter-cultural (and often suspect);  and of being prepared to 'give an account of the hope we have' (1 Peter 3:15). But this rests, as Ray Gaston is quick to note, on a willingness to enter more deeply into the sources and norms of one's own tradition, in the belief that dialogue with the other necessarily brings deeper self-understanding as well. Hope looks forward in anticipation to the possibilities of a greater wisdom and more expansive vision born out of the dialogue; and love is the expression of the fruits of that process of dialogue and engagement: the 'dividend' if you like, generated out of the investment of time, prayer, energy and care represented by simply being a faithful, local, presence one with another. This is, in Christian terms, a deeply incarnational undertaking.
As Ray Gaston points out, much of the tradition of Western missiology or theology of religion has been framed around the question of salvation. The New Testament records that when the rich young man approached Jesus for guidance, his primary concern, too, was one of his own salvation: 'What must I do to inherit eternal life? What must I do to be saved?' Jesus' response, however, suggests that the divine priority is, rather different. It is one of right relation: with ourselves, others and with God. In response to the rich man's question, Jesus tells a story of the outsider, the religious other, as the one in whom we see God's spirit at work in the world. To me, this serves as the guiding genius of this book: an invitation to imagine what it might mean if Christian mission and ministry were exercised primarily through the virtues of empathy and solidarity. What matters is not my salvation, but something altogether more practical and immediate – yet no less sacred: the fact of our common humanity. The real question, then – at the heart of interfaith engagement, of good citizenship, and the very gospel of Jesus Christ — is this: 'Who is my neighbour?'
---
Pre-order Faith, Hope and Love now and you'll benefit from a special prepub discount. To order, or for more details, visit our website.